See Cristiano Ronaldo at the 2020 Golden Foot Award ceremony in a live online stream. For more information, check out this article.
The 18th edition of the Golden Foot Award will be transformed into a multimedia event, which millions of fans can attend worldwide, and is something no football fan will want to miss on December 28.
A footballer can only win this prestigious accolade once in his career. He'll have the honor of imprinting his footprints in the famous Champion's Promenade in Monte-Carlo, Monaco – leaving his mark on the planet forever.
The latest iconic name to win the award and leave his footprints is 2020 winner Cristiano Ronaldo.
To watch Ronaldo during the 45-minute event live online from the comfort of your own home, you can reserve an e-ticket at the link below for only €4.99.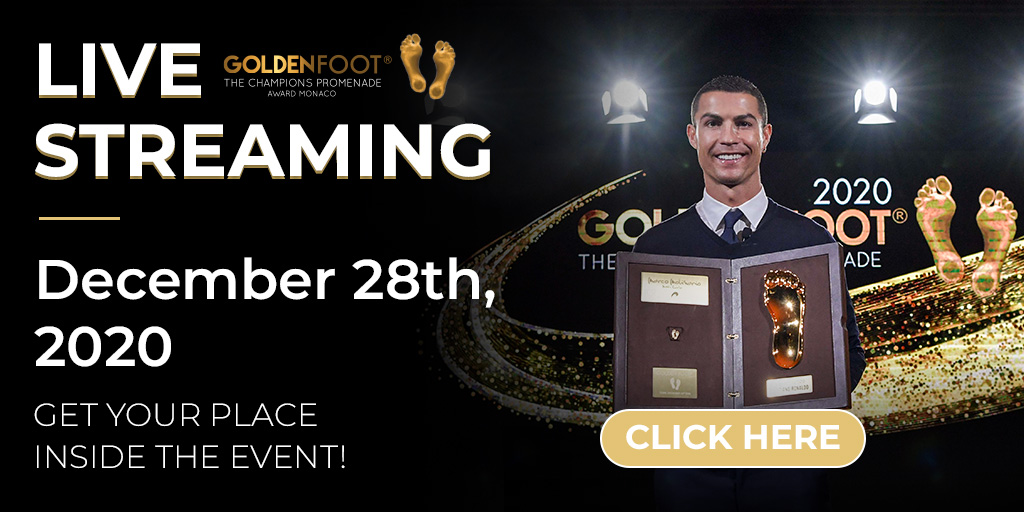 What's on offer during the Golden Foot ceremony?
Exclusive Content
17 legendary players such as Ronaldinho, Alessandro Del Piero, Ronaldo Nazario, Roberto Baggio, and Francesco Totti have all won the Golden Foot since it's founding in 2003. Some of them will be on air to give their own testimonies.
Fans will also be able to view the laying of footprints of the champions, a brief history of the award, and a talk show of internationally acclaimed sports journalists.
Interviews with Agnelli & Ronaldo
Juventus president Andrea Agnelli has won the first Golden Foot Prestige award and will attend the ceremony in an exclusive interview.
The 2020 Golden Foot winner, and arguably the biggest attraction of the show, Cristiano Ronaldo will also speak. The five-time Ballon d'Or winner will give his interview as part of the final highlight of the event.
Available in 3 different time-zones
Don't live in Europe? No problem!
The Golden Foot event organizers have set-up a broadcast for the three time-zones mentioned below to ensure no football fan misses out.
Session 1 – 9pm (GMT+12)
Suggested areas: Asia, Australia, New Zealand, Pacific Ocean Islands, Eastern Russia.
Session 2 – 9pm (GMT+1)
Suggested areas: Europe, Scandinavia, Africa, Middle East, Western Russia.
Session 3 – 7pm (GMT -6)
Suggested areas: Latin America, North America, Atlantic Ocean Islands, Greenland.
Interested yet? Don't forget to sign up for an e-ticket for only €4.99 in the link below.